Fuel Pump Fight: OEM vs THE WORLD
So, I hope you enjoyed the last article about the Almost KTM Fuel Pump Twins, but what about the world outside the LC8 2006-2020 world?
How do fuel pump behave? Well, shall we begin?
We will start with a simple receipe:
1-Let's buy some fuel pumps, just "motors";
2- Let's also buy some fuel pumps, full fuel pump units;
3- Let's create a test rig where we can test, at the same time Voltage, this time 12V, Amps absorption, fuel temperature after 8 hours of full fuel loop and fuel flow in lt/min;
4- Let's test the fuel flow at a given pressure, namely 3,5 bars or 4 bars
5-- Let's compare data and find the winner!
We started sourcing fuel pumps. Basically, thanks to our long experience and feedback from the REAL WORLD out there, we knew we wanted to test some specific "specimens" among the vast varaiety of models, brands and prices, also fuel pump designs.
We ended up with three simple designs:
what is recognised as the Bosch/Walbro 38mm single stadium
2. The 38mm NON std Kehin design for the KTM 990 throughout the one before last 1290 so from 2006 till 2020 LC8 Engine
3. Mitsubishi ultra compact 38mm pump, for example Honda Africa Twin CRF 1000/1100, Yamaha T7/MT7 and so on.
Why only three? Well, it's quite simple, but it's still a secret ;)
The energy source is already well known from the other article, so we had to come up with a flow instrument. Therefore, we searched for the best and got this one: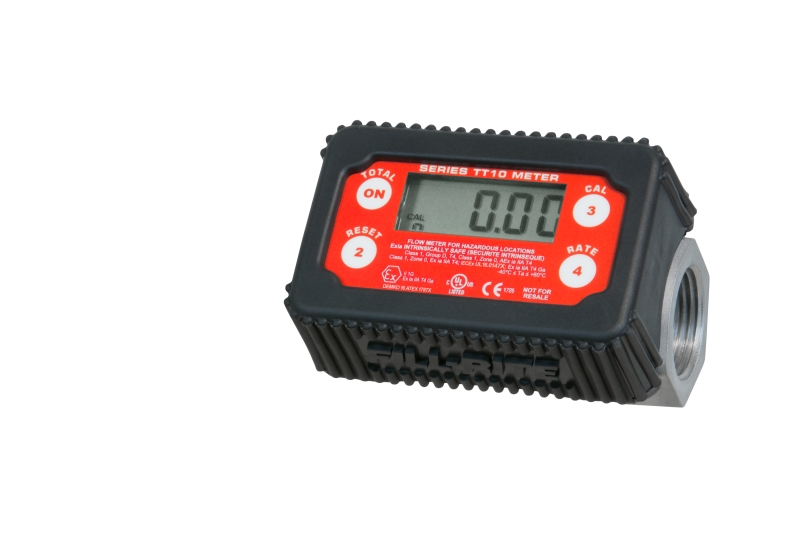 Top instrument....... point is that a 38mm fuel pump, even the "heavy caliber ones" we compared can reach 140 lt/hour but the meter would not read it properly ad there was no way to compare datas....
So we followed the simple old tank and stopwatch technique:
Sure, error is huge, wrong measurement, wrong stopwatch operating, strong variation, but honestly? We want to measure how many liters a KTM ADV 990 with a Kehin MK5 fuel pump can flow at a steady 12 volts and 3,5 bars, if the reading will tell us 65 lt/h instead of 68,5 lt/h and next pump/brand/type will give us a 98 l/h at the same pressure and operating voltage, you really think that a 3% deviation will matter? Call me simple, I believe it won't.
In order to reduce the human error each pump was cycling the same fuel 5 times. 5,15 lt each "run" and the data showed is a simple arithmetic average!
Without ANY KIND OF ASSISTANCE from the "Big Boys", namely fuel pump producers and/or motorcycle producers, we ended up testing more than 50 fuel pumps and only 23 were used for the final comparison, some where automatically excluded due to the Amps absorption: how can you install a 12Amps gauging fuel pump on a motorcycle? Some others were too weak and made no sense, some were bought to cross check the data we found on-line and the tech catalogues info to make sure we had all the data we needed.
We tested Kehin, Bosch, Denso, Mitsubishi and two different brands for the Kehin type swap KTM Lc8 fuel pumps plus another brand for the Bosch type car fuel pump.
A third one for the Kehin was no more available on the EU market at the time of this test, but reading the producer specs of 140 lt/min at 13,5 Volts we doubt it would impress us (ME) much: 13,5 Volts on a bike? Seriously guys? What were you reading? The battery under charge? So we did not waste time getting that shipped over from the US for our comparison.
We ended up "cycling" more than 1150 total liter of petrol always the same 5,15lt…… well almost …
Spillage, evaporation, accidents (busted connection, unclamped hose, popping up fuel pressure regulator, you name it ;) ) and such "costed" around 10 lt of petrol ? BUT, we did cycle around 1150 lt of petrol, starting clean, ending up amber colored and with plenty of dust at the bottom of the tank: graphite carbon brushes are still common and reliable, just the first few minutes of use do create dust usually simply blocked by the main filter, missing in our test rig, or digested by the engine, no big deal. So all in all 1158,75 liters went through our test rig, not bad for a comparison ?
We used a std strainer for all fuel pumps, Kehin teabag design, no Godzilla in this test, we didn't want to fool the data, we used only 10 units rotating them among all the fuel pumps, they were all darkened by the graphite dust but never clogged or bad working.
One fuel pump got destroyed in the process, KTM OEM 790 BOSCH one, damn...... but experiments always have their tolls, right?
To mount the PA hose on the fuel pump output, we used our newest invention, ops, was supposed to be a secret ;)
It holds the hose in position while you slide inside "cold" just oiling the nipple or the fuel pump. Smart ain't it?
What I ended up liking:
Finishing the test!!! It was really hard, long and needed a lot of precision;
When the data added up the satisfaction was really rewarding, a top job done well;
Finding easily the fuel pump we wanted for our final project;
Never having to take apart a Kehin screw/white capsule/fuel pump flange for e long time.
What I ended up hating: Kehin fuel pump assembly:
1- Kehin fuel pump screws;
2-Kehin fuel filter white capsule;
3-Kehin fuel pump assembly, did I mention it?
4-Kehin radial o-ring, I hate it with my guts! After chewing up 12, we decided to run the risk of spilling a bit of petrol and installed the pump base without: not a single drop of petrol bypassed the main o-ring. Sure the radial keeps the fuel pump assembly centered, but MAN WHAT A NIGHTMARE!
The List:
1- Kehin Type OEM 990 2 units;
2- Kehin Type OEM 1090-1190-1290-1050 2 units;
3- Kehin Type Brand A Lc8 1 unit;
4-Kehin Type Brand B Lc8 1 unit;
5. Bosch OEM BMW R 1200/1250 LC AND KTM 790/890/1290 2021 (YES WE DID IT !) 2 units;
6. Bosch Brand various model 10 units;
7. Bosch Type Brand A (same as the Lc8 of above) 1 unit;
8. Bosch Type Brand C 1 unit;
9. Denso Bosch type from Yamaha XTZ 1200 1 unit;
10. Mitsubishi  mini 38 type from AT CRF 1000 1 unit  and from Yamaha T7 1 unit.
How could we test in the same conditions all these different types of design?
Well, we are Guglatech, we're good at testing and inventing systems, cables were easy to mount, as for the fuel pressure regulator and pump mounting, we used the KTM 1190 flange to fix the pump and a CNC made adapter to which PA corrugated hoses, the one we produce for the BMW fuel pump revamp kit, would run the petrol from the fuel pump outlet to the FPR and than 100% bypass through the FPR nozzle to either the tank in a close loop to measure Amps and Temperature rise/variation in the 8 hours cycle or directly to the plastic canister for the liter per minute measurements.
Only the Kehin OEM/Type, Bosch and Denso type were tested at both 3,5 Bars and 4 Bars, the Mitsubishi, to our knowledge, runs only at 3,5 Bars, while the others in our comparison have a wider specs of applications.
Kehin design on the 990 and RC8 1190 run at 3,5 Bars, the same design runs at 4 bars on all 1050/1090/1190/1290
Bosch (Denso it's basically a twin in design therefore our curiosity) OEM  run at 3,2-3,5 Bars on BMW R 1200/1250 LC -800-S1000 Xr etc etc  AND the same pump at 4 Bars on the KTM 790/890/1290 2021, you should already know since we told you in our videos ?
This is why we wanted to test only real cases, what use is to stress a weak Mitsubishi mini pump to run at 4 Bars if there are no real cases?
| | | | | |
| --- | --- | --- | --- | --- |
|   | 4 Bars |   | 3,5 Bars |   |
| Brand/Model | Amp | Lt/h  | Amp | Lt/h  |
| BOSCH 1 | 9,57 | 141 | 9,13 | 152 |
| BOSCH 4 | 5,9 | 139 | 5,57 | 142 |
| BOSCH 2 | 6,08 | 138 | 5,73 | 145 |
| BOSCH 6 | 5,76 | 134 | 5,5 | 140 |
| BOSCH 5 | 5,4 | 131 | 5,06 | 142 |
| BOSCH 3 | 5,44 | 131 | 5,06 | 140 |
| BOSCH 7 | 5,24 | 130 | 4,98 | 139 |
| BOSCH BMW/KTM | 4,22 | 121 | 3,93 | 128 |
| BOSCH BRAND C | 4,5 | 121 | 4,26 | 131 |
| BMW BRAND A | 4,82 | 121 | 4,6 | 125 |
| BOSCH 10 | 4,46 | 101 | 4,17 | 122 |
| LC8 BRAND B | 5,13 | 100 | 4,75 | 116 |
| KEHIN 1190/1290 | 4,65 | 98 | 4,14 | 98 |
| LC8 BRAND A | 5,34 | 96 | 5 | 122 |
| BOSCH 8 | 5,44 | 87 | 5,1 | 97 |
| BOSCH 9 | 4,74 | 77 | 4,37 | 96 |
| KEHIN 990 | 3,42 | 59 | 3,2 | 88 |
| YAMAHA DENSO | 4,34 | 59 | 4 | 74 |
| HON/YAMA MISTUBISHI |   |   | 2,86 | 68,06 |
Let's start from the obvious:
Mitsubishi small fuel pumps are small and provide the worse performance.
Surprisingly, the Denso, twin in size with the Bosch ones, was also underperforming, when compared to the car type it resembles.
Temperature rise wase never critical with a 37 C° with room temperature of 27 C° reading  after 8 hours on the OEM KTM 1190 fuel pump and the lowest with one the KTM OEM 990 fuel pump with 32 C° reading.
What really cames out from this test?
Well, that the BOSCH DESIGN WINS!
All Kehin design pumps never matched the Bosch design, even the one from the brand that produces also the Bosch type pump was running "wrong".
Obviously, all the off-the shelf pump producers claims to exceed OEM specs, better performances, stronger here, bigger there, life time warranty, but none of the fuel pump delivered what promised in the KEHIN DESIGN TYPE OF PUMPS: for example a 5,34 Amp absorption to deliver LESS lt/min of the original KTM 1190 fuel pump at 4 Bars against 4,65 Amps of the original fuel pump. Why such an increase in absorption for such a weak result?
True is, as we were discussing with Mauro Gessi at Gessi Motocrcycles while working at the Mantyde LC8 Rally Race Bike:
A Series Type Shindengen is always a good choice. Nonetheless the fuel pump tricks is also quite smart. Needles to say, that on a std motorcycle with all the gadgets running at full power, to loose almost 1 Amp to have LESS LT PER MINUTE THAN THE OEM MAKES NO SENSE.
In the Bosch type YES, they performed as well if not better than the OEM comparable model, so the question is why is the Kehin design so poor? The only conclusion I could draw is the lack of competition.
Since all the existing alternatives are priced the same ALL OVER THE WORLD, deliver the same poor results and are specific for the "little" niche of the Lc8 engine, nobody ever put real money in the development of a real advanced and good fuel pump.
On the contrary the Bosch Type fuel pump application world is vast, competition is fierce!
Everyone wants a slice and to be called "good enough" you must rise your gloves against the BIG BOYS who are putting out great value for money. Also prices are "normal", the most expensive pump of the lot of tested fuel pumps we bought was a 72 euros KIT, all the rest ranged between 32 and 57 euros, one type 27 euros (top performance if compared to the Denso).
So yes, the real problem of the Kehin fuel pump is the design of the fuel pump assembly, it won't allow you to mount a premium top quality and performance fuel pump and one will have to accept some side brand non-performing fuel pump.
Oh, yes, what do I define with the word performance in fuel pump: low Amp absorption compared to the fuel flow o f lt/min with a very small variation between running at 3,5 Bars or 4 Bars. THI IS THE WINNING DESIGN.
So which one is the winning fuel pump of this dedicated contest?
BOSCH TYPE FUEL PUMP DESIGN
Ok, you will say, wo what if we cannot mount it on our LC8 engines or the Honda/Yamaha (T7) type?
Well, actually one of our designed special Racing Fuel Pump Unit is equipping various BIG TWIN Japanese Rally Racing   bikes, so YES, Guglatech can and is already there;)
Stay tuned for the most important evolution in the Fuel System of the KTM LC8 Engine EVER!
Check also our video on fuel pump revolution:
Fuel Pump Designs | Fuel Pump | Racing Fuel Pump |KTM Fuel Pump | Kehin Fuel Pump | Bosh Fuel Pump | On-line Shop